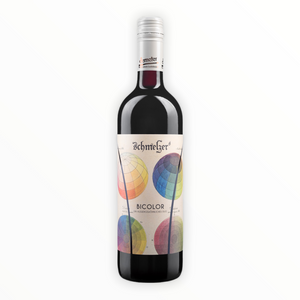 Schmelzer winery - Bicolor
Philosophy: Combines the fruitiness and lightness of the white wine and the
Down -to -earthness and depth of the red wine.
Variety: Typical Austrian red and white grapes
Wine area: Neusiedlersee, Burgenland

 Vineyards: Riedencuvèe
Floor: Gravel, clay, gravel and also sandy
Vinification: 
Young year, sugar: 1.3, acid: 5.9, alk: 13
Handles, without sulfur, not filtered, not pumped, but only moved with gravity
Weißwein: Corruged, short mash score, fermented in the steel tank
Red wine: Reinated variety, slowly fermented, storage in the wooden barrel
A few days before filling, the wines are combined so that they can connect in peace.
The fruitiness and freshness of the white wine, the character of the red.
Fragrance after mature citrus fruits, a variety of fruit aromas such as cherry and raspberries on the palate, slightly backed with tannins.
Long departure, harmonious and still with whistle!