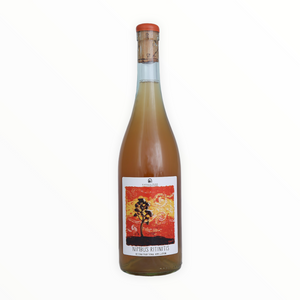 Label: Nimbus ritinitis

Origin: northern Greece

Region: Langs of Kamara, Oraiokastro Thessaloniki

Variety: Asyrtiko maceration 100%

Art: Orange

History of the label: The recipe for this Retsina was handed down to our family by our grandfather, who was a winemaker in Ostromilia, a region in today's Bulgaria. His name means orange cloud and represents a landscape in our vineyards in the early evening.

taste

Bright yellow to amber -colored color. Intensive nose with aromas of thyme, lavender, oregano and ginger.

Vegetable notes on the palate, with an intensive expression of bergamot and kumquat, as well as resin and thyme. Halks from MASTIX from Chios in the exit testify to the quality of the pine resin used. Balanced acid with a fruity and herbal feeling in the long -lasting aftertaste.